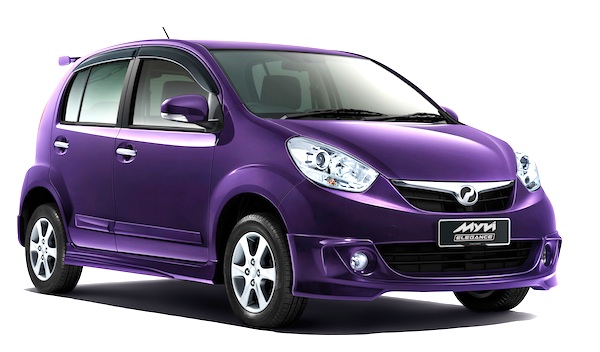 The Malaysian car market is back up by 7% in August at 56,555 registrations, bringing the year-to-date total to 391,476 units, down 1%. The Perodua MyVi new generation confirms the pole position it reclaimed last month at 13.9% market share, down from 16.8% in August.
On the contrary the Proton Saga is back in better shape at 12.8% share thanks to 7,214 sales. It is still #1 year-to-date at 52,288 units and 13.4% vs. 49,478 and 12.6% for the MyVi. The Perodua Viva stays in 3rd place and improves its share to 11.2%. In fact the entire Top 9 is unchanged vs. July, with the Proton Persona (8.9%), Perodua Alza (7%) and Proton Exora (4.5%) posting significantly higher market shares.
Further down the ranking, the Ford Fiesta delivers its best month to date in Malaysia in 17th position with 537 sales and 0.9% and the Lexus CT200h continues to impress, up 16 spots on July to #36 at 181 units.
Full August 2011 Top 100 Ranking Table below.
Malaysia August 2011:
| | | | | | | | | |
| --- | --- | --- | --- | --- | --- | --- | --- | --- |
| Pos | Model | Aug | % | Jul | 2011 | % | Pos | 2010 |
| 1 | Perodua Myvi | 7881 | 13.90% | 1 | 49478 | 12.60% | 2 | 1 |
| 2 | Proton Saga | 7214 | 12.80% | 2 | 52288 | 13.40% | 1 | 2 |
| 3 | Perodua Viva | 6348 | 11.20% | 3 | 40333 | 10.30% | 3 | 3 |
| 4 | Proton Persona | 5045 | 8.90% | 4 | 33293 | 8.50% | 4 | 4 |
| 5 | Perodua Alza | 3945 | 7.00% | 5 | 24198 | 6.20% | 5 | 5 |
| 6 | Toyota Vios | 3215 | 5.70% | 6 | 20031 | 5.10% | 6 | 6 |
| 7 | Proton Exora | 2548 | 4.50% | 7 | 15038 | 3.80% | 7 | 7 |
| 8 | Toyota Hilux | 2031 | 3.60% | 8 | 13752 | 3.50% | 8 | 9 |
| 9 | Nissan Grand Livina | 1232 | 2.20% | 9 | 8992 | 2.30% | 9 | 10 |
| 10 | Toyota Avanza | 932 | 1.60% | 13 | 5341 | 1.40% | 13 | 14 |
| 11 | Proton Inspira | 878 | 1.60% | 11 | 6951 | 1.80% | 11 | 51 |
| 12 | Honda City | 806 | 1.40% | 16 | 8608 | 2.20% | 10 | 8 |
| 13 | Mitsubishi Triton | 801 | 1.40% | 12 | 5699 | 1.50% | 12 | 13 |
| 14 | Toyota Camry | 798 | 1.40% | 14 | 5310 | 1.40% | 14 | 11 |
| 15 | Toyota Corolla Altis | 652 | 1.20% | 17 | 4201 | 1.10% | 16 | 16 |
| 16 | Isuzu D-Max | 538 | 1.00% | 19 | 3899 | 1.00% | 18 | 17 |
| 17 | Ford Fiesta | 537 | 0.90% | 21 | 2921 | 0.70% | 26 | - |
| 18 | Honda Accord | 525 | 0.90% | 23 | 3034 | 0.80% | 24 | 15 |
| 19 | Naza Forte | 500 | 0.90% | 18 | 3970 | 1.00% | 17 | 20 |
| 20 | Honda Civic | 496 | 0.90% | 15 | 4850 | 1.20% | 15 | 12 |
| 21 | Honda Insight | 428 | 0.80% | 10 | 3508 | 0.90% | 19 | - |
| 22 | Proton Satria Neo | 423 | 0.70% | 22 | 2970 | 0.80% | 25 | 23 |
| 23 | Toyota Innova | 389 | 0.70% | 20 | 3184 | 0.80% | 22 | 18 |
| 24 | Honda CR-V | 385 | 0.70% | 27 | 3313 | 0.80% | 20 | 19 |
| 25 | Nissan Navara | 370 | 0.70% | 26 | 2904 | 0.70% | 27 | 25 |
| 26 | Suzuki Swift | 346 | 0.60% | 30 | 3299 | 0.80% | 21 | 21 |
| 27 | Chery Eastar | 342 | 0.60% | 28 | 1913 | 0.50% | 31 | 27 |
| 28 | Nissan Teana | 292 | 0.50% | 24 | 3151 | 0.80% | 23 | - |
| 29 | Hyundai i10 | 249 | 0.40% | 25 | 1729 | 0.40% | 32 | 26 |
| 30 | Toyota Rush | 230 | 0.40% | 35 | 1636 | 0.40% | 33 | 28 |
| 31 | Toyota Prius | 216 | 0.40% | 41 | 1301 | 0.30% | 43 | - |
| 32 | Mercedes C-Class | 212 | 0.40% | 31 | 1366 | 0.30% | 40 | 30 |
| 33 | VW Golf | 211 | 0.40% | 34 | 1615 | 0.40% | 34 | - |
| 34 | Mazda2 | 201 | 0.40% | 46 | 1248 | 0.30% | 45 | 34 |
| 35 | Peugeot 308 | 184 | 0.30% | 43 | 1494 | 0.40% | 37 | 38 |
| 36 | Lexus CT200h | 181 | 0.30% | 52 | 493 | 0.10% | 66 | - |
| 37 | BMW 5 Series | 176 | 0.30% | 33 | 1492 | 0.40% | 38 | 46 |
| 38 | Naza Citra | 176 | 0.30% | 39 | 1308 | 0.30% | 42 | 35 |
| 39 | Mercedes E-Class | 170 | 0.30% | 47 | 1499 | 0.40% | 36 | 29 |
| 40 | Mazda3 | 169 | 0.30% | 94 | 1147 | 0.30% | 47 | 50 |
| 41 | Nissan Sylphy | 165 | 0.30% | 29 | 2123 | 0.50% | 29 | 22 |
| 42 | Ford Ranger | 165 | 0.30% | 38 | 1511 | 0.40% | 35 | 32 |
| 43 | Toyota Hiace | 165 | 0.30% | 32 | 1297 | 0.30% | 44 | 42 |
| 44 | BMW 3 Series | 151 | 0.30% | 37 | 1308 | 0.30% | 41 | 31 |
| 45 | Nissan Urvan | 150 | 0.30% | 36 | 1158 | 0.30% | 46 | 40 |
| 46 | Hyundai Tucson | 142 | 0.30% | 42 | 1484 | 0.40% | 39 | - |
| 47 | Mitsubishi Pajero Sport | 139 | 0.20% | 51 | 959 | 0.20% | 50 | 44 |
| 48 | VW Polo | 127 | 0.20% | 54 | 907 | 0.20% | 52 | - |
| 49 | Kia Sportage | 120 | 0.20% | 44 | 289 | 0.10% | 77 | - |
| 50 | Hyundai Starex | 109 | 0.20% | 99 | 635 | 0.20% | 58 | 45 |
| 51 | Nissan Sentra | 107 | 0.20% | 55 | 841 | 0.20% | 53 | 41 |
| 52 | Hyundai Sonata | 106 | 0.20% | 48 | 2238 | 0.60% | 28 | 49 |
| 53 | Toyota Fortuner | 105 | 0.20% | 45 | 1105 | 0.30% | 48 | 33 |
| 54 | Nissan X-Trail | 95 | 0.20% | 58 | 721 | 0.20% | 55 | 48 |
| 55 | Mercedes B-Class | 95 | 0.20% | 49 | 466 | 0.10% | 68 | - |
| 56 | Peugeot 207 | 94 | 0.20% | 59 | 1069 | 0.30% | 49 | - |
| 57 | Mitsubishi Lancer | 87 | 0.20% | 78 | 372 | 0.10% | 73 | 39 |
| 58 | Suzuki Alto | 84 | 0.10% | 64 | 754 | 0.20% | 54 | - |
| 59 | Chevrolet Cruze | 84 | 0.10% | 50 | 603 | 0.20% | 61 | - |
| 60 | Peugeot 5008 | 83 | 0.10% | 68 | 335 | 0.10% | 76 | - |
| 61 | Kia Sorento | 80 | 0.10% | 53 | 633 | 0.20% | 59 | - |
| 62 | Hyundai Santa Fe | 76 | 0.10% | 57 | 564 | 0.10% | 63 | - |
| 63 | Mitsubishi ASX | 75 | 0.10% | 56 | 679 | 0.20% | 56 | - |
| 64 | Suzuki SX4 | 71 | 0.10% | 65 | 592 | 0.20% | 62 | - |
| 65 | Honda Stream | 66 | 0.10% | 62 | 508 | 0.10% | 65 | - |
| 66 | Mazda6 | 58 | 0.10% | 66 | 409 | 0.10% | 71 | - |
| 67 | Mitsubishi Grandis | 54 | 0.10% | 70 | 338 | 0.10% | 75 | - |
| 68 | Nissan Frontier | 53 | 0.10% | 67 | 408 | 0.10% | 72 | - |
| 69 | VW Scirocco | 52 | 0.10% | 74 | 262 | 0.10% | 81 | - |
| 70 | BMW X1 | 50 | 0.10% | 71 | 189 | 0.00% | 90 | - |
| 71 | Naza Picanto | 49 | 0.10% | 61 | 913 | 0.20% | 51 | - |
| 72 | Nissan Latio | 45 | 0.10% | 72 | 518 | 0.10% | 64 | 47 |
| 73 | Volvo XC60 | 45 | 0.10% | 86 | 189 | 0.00% | 91 | - |
| 74 | Lexus RX | 43 | 0.10% | 91 | 264 | 0.10% | 80 | - |
| 75 | Proton Waja | 41 | 0.10% | 60 | 1965 | 0.50% | 30 | 24 |
| 76 | Peugeot 3008 | 41 | 0.10% | 63 | 632 | 0.20% | 60 | - |
| 77 | Mitsubishi Lancer Sportback | 41 | 0.10% | 88 | 179 | 0.00% | 92 | - |
| 78 | Naza Rondo | 40 | 0.10% | 73 | 260 | 0.10% | 82 | - |
| 79 | VW Passat CC | 36 | 0.10% | 40 | 470 | 0.10% | 67 | - |
| 80 | Porsche Cayenne | 35 | 0.10% | 77 | 171 | 0.00% | 94 | - |
| 81 | Honda Freed | 34 | 0.10% | 79 | 450 | 0.10% | 69 | - |
| 82 | Nissan Serena | 34 | 0.10% | 80 | 238 | 0.10% | 85 | - |
| 83 | Hyundai Accent | 33 | 0.10% | 83 | 135 | 0.00% | 101 | - |
| 84 | Proton Gen2 | 32 | 0.10% | 96 | 648 | 0.20% | 57 | 37 |
| 85 | Honda Jazz | 32 | 0.10% | 69 | 353 | 0.10% | 74 | - |
| 86 | Mazda5 | 31 | 0.10% | 85 | 229 | 0.10% | 87 | - |
| 87 | Mazda BT50 | 29 | 0.10% | 89 | 210 | 0.10% | 89 | - |
| 88 | Peugeot RCZ | 29 | 0.10% | 100 | 89 | 0.00% | 107 | - |
| 89 | Mazda8 | 28 | 0.00% | 125 | 268 | 0.10% | 79 | - |
| 90 | SsangYong Stavic | 28 | 0.00% | 76 | 141 | 0.00% | 99 | - |
| 91 | Audi A4 | 25 | 0.00% | 75 | 240 | 0.10% | 84 | - |
| 92 | Volvo S40 | 23 | 0.00% | 114 | 137 | 0.00% | 100 | - |
| 93 | Mercedes S-Class | 22 | 0.00% | 84 | 175 | 0.00% | 93 | - |
| 94 | Ford Focus | 22 | 0.00% | 87 | 162 | 0.00% | 96 | - |
| 95 | Kia Pregio | 20 | 0.00% | 82 | 244 | 0.10% | 83 | - |
| 96 | Peugeot 407 | 18 | 0.00% | 92 | 230 | 0.10% | 86 | - |
| 97 | SsangYong Actyon | 17 | 0.00% | 103 | 29 | 0.00% | 129 | - |
| 98 | Suzuki Grand Vitara | 16 | 0.00% | 118 | 287 | 0.10% | 78 | - |
| 99 | Audi Q5 | 15 | 0.00% | 81 | 171 | 0.00% | 95 | - |
| 100 | Mazda CX-7 | 15 | 0.00% | 97 | 161 | 0.00% | 97 | - |
Source: Malaysian Automotive Association